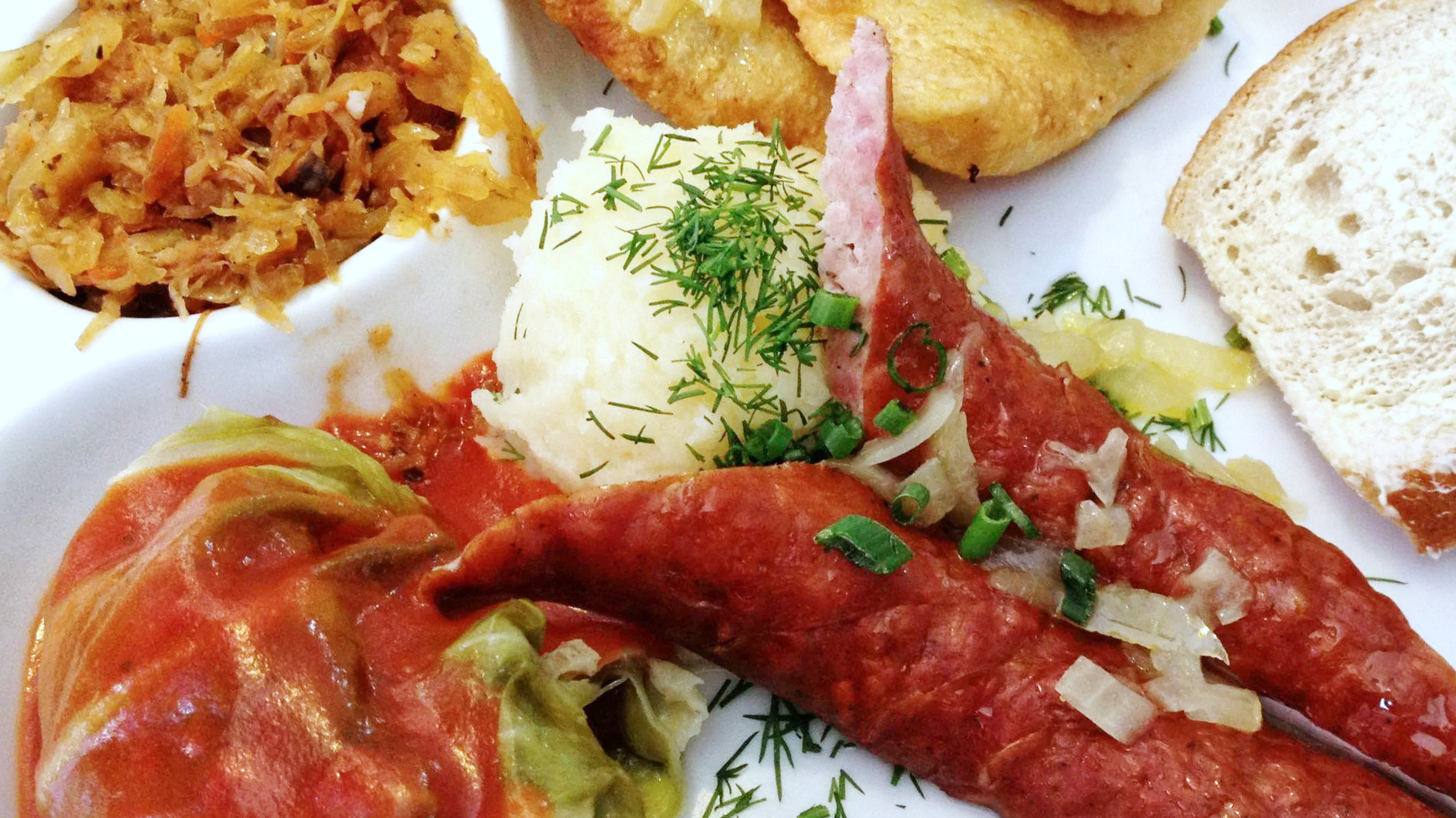 Polish Platter
Polski Talerz
Cabbage roll, Polish kielbasa, Hunter's Stew, 3 savory pierogi, Hand Mashed Potatoes and a Potato Pancake

Gołabek, kiełbasa, bigos, ziemniaki recznie ubijane, 3-Pierogi nie slodki,, placek ziemiaczany

Hunter's Stew
BIGOS
Sauerkraut, pork, beef, and Polish kielbasa slowly simmered with spices, mushrooms, prunes, and red wine. It's filling, smoky, satisfying.
Tradycyjny bigos Staropolski, przygotowany z kapusty kiszonej i bialej; zawiera mieso, kielbase, boczek, grzyby, sliwk i czerwone wino.
$15.95

Polish Kielbasa
KIEŁBASA
Fried or boiled
Gotowana lub Smazona
Pork Cutlet a la Gdansk
KOTLET PO GDAŃSKU
Pork loin stuffed w/mushrooms & onions
Schab nadziewany pieczarkami i cebulą

$23.95
Stuffed Cabbage Rolls
GOŁĄBKI
Beef & pork and rice filled cabbage rolls with our Special Sauce
Wolowina, wieprzowina, ryz i kapusta Sos nasza receptura

$18.95
Breaded Pork Chop
KOTLET SCHABOWY
Staropolski style, bone in
Po Staropolsku z koscią
Pork Cutlet a la Imperial
KOTLET IMPERIAL
Pork loin stuffed w/ mushrooms, onions, egg with a hint of horseradish
Schab nadziewany cebulką,jajkiem,grzybami z dodatkiem chrzanu
Served with a choice of: soup du jour or salad a vegetable and a potato. (Excluded are Tripe Soup and Red Borscht)
Potato choice: Hand Mashed Potatoes, French Fries or a Potato Pancake (potato pancake $2 extra)
Vegetables: Beets, Cucumber Salad, Sauerkraut Salad, Coleslaw, Red Cabbage, Cooked Sauerkraut, Pickles, String Beans, or a veggie assortment for $ 4.95 (excluded are Polish Platter and Hunter's Stew)
Our gourmet Polish dough pillows are hand filled and prepared to perfection. Choice of eight (8).
SWEET PIEROGI
SERVED FRIED OR BOILED WITH SAUTE ONION (SOUR CREAM ONLY UPON REQUEST)
Farmers Cheese Sweet Filling
z Serem na Słodko
$14.95
Fruit Filled Raspberry or Blueberry
z Owocami jagoda lub malina
Boiled only | Tylko gotowane
$13.95
SAVORY PIEROGI
SERVED FRIED OR BOILED WITH SAUTE ONION (SOUR CREAM ONLY UPON REQUEST)

Cheese/Potato
w/Bacon bits and onion
z Serem i/Ziemniakami boczek,cebula
$14.95
Mushroom/Sauerkraut
z Kapustą i Grzybami

$13.95
Meat
our special meat filling seasoned to perfection
w/Bacon bits and onion | z Mięsem
$14.95
Potato/Cheese (no bacon)
z Ziemniakami / Serem (bez boczku)
$13.95
Thusday
UKRAINIAN BORSCHT OR
BABCIA'S CHICKEN NOODLE SOUP
Friday
WHITE BORSCHT OR TOMATO RICE SOUP
SERVED FRIED OR BOILED WITH SAUTE ONION (SOUR CREAM ONLY UPON REQUEST)
POTATO PANCAKES
Placki ziemniaczane
$5.50 each
CHEESE BLINTZES
Naleśniki z serem
$5.75 each
Served with apple sauce and sour cream
STUFFED CABBAGE
Gołąbek
$5.75 each
POLISH KIELBASA
Polska Kielbasa

$5.75 each
Fried or Boiled